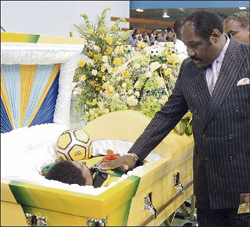 Former Reggae Boy Peter Cargill died in a trafffic accident last evening. At the time of his untimely death he was serving as the head coach of the Waterhouse Football Club. There are reports that other persons were injured in the accident but so far no one else has succumbed to their injuries.
Peter Cargill was an important part of the Rene Simoes coached Jamaica Football Team that reached the 1998 World Cup Finals in France. In his defensive midfield position, Peter marshalled the transition from defence to attack and was a central figure in the formation used by Rene Simoes at the time.
His football career as a player took him to Camperdown where he successfully captained the Camperdown High School team to Triple Crown championship honours in 1992 winning the Manning Cup, Walker Cup and Olivier Shield, experience that would serve him well in the future. He played for Harbour View Football and professionally in Isreal for a number of years.
Peter was 41 at the time of his death and leaves behind a greiving wife, two children and a shocked nation.